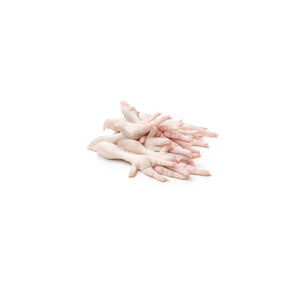 Chicken feet, more than just a bone...
Suitable for puppies, adults, senior & cats:
Raw chicken feet are loaded with important nutrients including Calcium, Zinc and Selenium. Chicken feet provide collagen & Glucosamine that aids in digestion and support healthy joints.
In addition raw chicken feet can also help keep your pet's teeth clean by acting like natural "toothbrushes" as they're chewed on. The crunchy texture helps scrape off plaque build-up from your pet's teeth while the chewing action increases saliva production which helps neutralize oral bacteria responsible for tooth decay.
How much to feed?
small dogs & cats up to 10kg: 1-2 per week
medium & large up to 25kg: 2-3 per week
large & xlarge up to 60kg: 3-4 per week
*please note: chicken feet are bones so if you feed too much can cause constipation, start with one per week and monitor your pet reaction.
Ways to serve:
Just defrost one feet and give it for a delicious snack or add it to the meal time. always defrost in the fridge and keep it up to 4 days. Keep the rest package in the freezer up to 1 year.
Caution:
Always supervising your pet while is on raw bones for chewing. If your pet is an aggresive chewer and generally wants to swallow anything that you offer PLEASE this is not for your pet. NEVER cooked the bones as are not suitable for your pet digestive system. Cooked bones are harder to digest and also can get splinter.
*approx weight 400-500gr
*made in Cyprus for Organic Dog Chef LTD