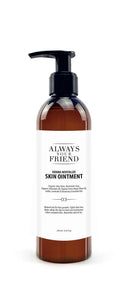 FORMULATED FOR DOGS WITH SKIN/HAIR PROBLEMS SUCH AS HOT SPOT, ALOPECIA AND BLACK SKIN DISEASE. BECAUSE OF ITS RICH INGREDIENTS, IT IS SUGGESTED FOR ALL HAIR TEXTURES AND TYPES.
* Best used with Derma Line Set
The Skin Ointment is a blend of natural ingredients that help treat most known skin conditions. Organic aloe vera gel and vitamin E provide healing energy to the deepest layers of the skin, reduce itching and flaking and are both antibacterial and antifungal. Organic calendula oil stimulates collagen production and reduces dry skin conditions. Organic extra virgin olive oil hydrates in-depth helping prevent hair loss and nourishing the skin. Tea tree and Peppermint are powerful essential oils that promote hair growth and provide effective relief for pets with skin irritation, dryness, itching, yeast infection, hot spots, black skin disease, cracked skin, flea allergies, dermatitis and other skin conditions. The lavender essential oil has antiseptic properties and helps the skin to heal faster while preventing infections. Bentonite clay has minerals that are essential for hair growth. It also helps remove toxins from pores and allows the skin to heal. Sulphur helps with the toughest skin conditions such as black skin disease and hot spots, especially where there is an allergic basis. And vitamin C prevents hair from growing weak and fights hair loss. All-natural ointment for healthy skin. 
- Promotes hair growth & fights hair loss
- Enhances hair condition
- Deep hydration
- Effective against most known skin conditions
- Improves skin quality

Tips: Do not worry if your pet loves to lick her skin. You can feel confident knowing every last ingredient that goes into Skin Ointment is completely safe and natural!
Application
Apply a thin layer over the required area and gently massage until the ointment is absorbed. Repeat the procedure at short intervals (2 times per day) until the issue is resolved.
More detailed application instructions: Make sure the dog is clean. Trim long hair with scissors for better application. Best use 2-3 hours after use of Derma Revitalize Activator Lotion. Apply a generous amount of ointment on a reusable pad or cotton pad (or cotton wool) and gently massage the damaged skin or use directly on the skin and massage gently until the ointment is absorbed. Apply twice per day. 
Ingredients
Water, Aloe Barbadensis Miller*, Bentonite Clay, Sulphur, Betaine, Glyceryl Stearate Citrate, Sucrose Stearate, Polyglyceryl-4 Stearate, Cetyl Alcohol, Sodium Ricinoleate, Calendula Officinalis Flower Oil*, Olea Europaea (Olive) Fruit Oil*, Caprylic Capric Triglycerides, Phenoxyethanol, Caprylyl Glycol, Potassium Sorbate, Sodium Benzoate, Vitamin E Acetate.
*Organically Cultivated