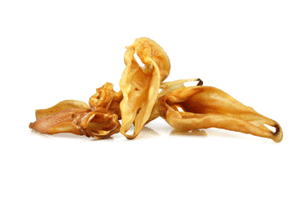 New air-dried treats Organic Dog Chef!
Our Beef Ears are an irresistible option even for puppies and small sized dogs with extra large appetites who love to chew on everything in sight. They are 100% digestible and completely natural without artificial chemicals or preservatives. Beef Ear is a natural source of important nutrients like cartilage that helps to support joint health.
*Please if you find the beef ear too big you can cut it from the half.
*Price per piece.
All benefits at a glance:
Low in fat
Made in Europe with HACCP CERTIFICATE
High protein
Suitable for puppies too
Helps support healthy teeth and gums
Species-appropriate activity
Ingredients:
100% Air dried Beef ears
without the addition of grain, chemicals, preservatives or other extenders.
Please note that this is a pure natural product, so the size, form and color can differ from the photograph.