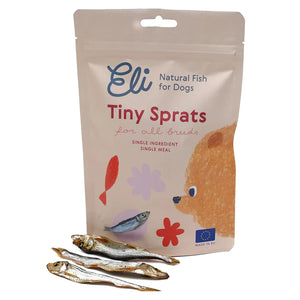 Say fishhh!!! Organic dog chef introduce you the new line of fish dog treats!
Dried baltic sea Sprats are a great source of Omega-3 and make a high-value training treat thanks to their delicious smell and taste. Made from 100% Baltic Sea sprats, these treats are air dried to preserve the healthy vitamins and Omega oils.
Low calorie, hypoallergenic and easily digestible, these treats are ideal as a snack for overweight dogs or dogs with allergies or intolerances. Omega 3 is an essential fatty acid that supports joint mobility, healthy vision, brain function, gut and gum health, and improves coat and skin condition. 

Low calorie
100% Natural
Hypoallergenic
Gluten Free
Suitable for puppies, adutls & senior pets
No preservatives or additives