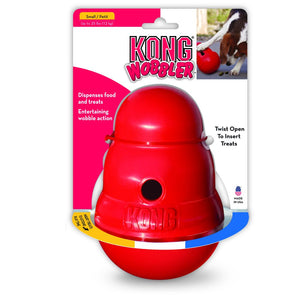 PERSONAL EXPERIENCE ORGANIC DOG CHEF TEAM RECOMMEND THIS AMAZING TOY FOR KEEPING YOUR PET BUSY DURING THE DAY.
We use it personally with our shepherd dog when we are leaving from home or when she is so active and playful and we don't have the time to go out for activities. By Far the best toy for keeping our dog entertained & busy. We recommened the following treats for filling it:
- Organic Dog Chef Treats (cube shape treats)
- All the Dehydrated Treats liver & heart 
WITH HOW MANY TREATS TO FILLING IT?
Well we don't recommend to fill it full and also it depends from the time that you want to keep your pet busy. More treats means more busy, for small dogs we recommend 3-5 cubes of treats, medium dogs 5-10 cubes of treats and for large dogs 10-15 cubes of treats.
The KONG Wobbler™ is an action-packed toy that is a mentally stimulating food dispenser. The KONG shaped toy sits upright until nudged by the dog's paw or nose, dispensing tasty rewards as it wobbles, spins and rolls. The unpredictable movement stimulates natural instincts keeping even the most seasoned users challenged. The KONG Wobbler™ can also be used as an alternative to a dog bowl to help extend mealtime while providing exercise for your dog. Trying to get your dog to lose a few unwanted pounds? The KONG Wobbler™ is a great way to keep dogs moving while making them work for their food. Unscrews for easy filling and cleaning. Use the large Wobbler™ for medium to large-sized dogs