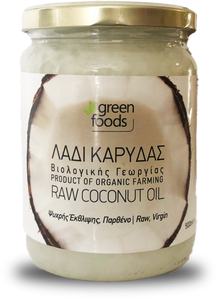 Coconut oil is extracted from mature coconuts and takes the form of an edible oil that is used in food and beauty products. It is high in saturated fat and medium-chain triglycerides, which are thought to be behind the touted health benefits for both humans and dogs.
100% Raw cold pressed Organic Coconut Oil.
So what exactly makes coconut oil so beneficial? Coconut oil can increase energy levels, improve skin and coat, improve digestion, and reduce allergic reactions.
Coconut oil can potentially slow cognitive dysfunction in dogs. Fatty acids are helpful in cognitive function, which has been medically proven.
Medium-chain fatty acids, like coconut oil, help with physical and digestive ailments because they are "directly absorbed in the GI tract and go directly to the liver where they are metabolized into utilizable energy."
Besides the overall health benefits, coconut oil can be used as a coating on pills to help dogs swallow them, and it can be applied topically to smooth and freshen a cat's coat.
Topical Application of Coconut Oil for dogs & cats
Coconut oil can add moisture to your cat's skin and prevent flaking. It also helps freshen up a cat's coat if used with a light touch. To use it topically, simply rub a very small amount on to your hands and then gently pat the coat, run your fingers through the fur, and massage on to the skin. Since coconut oil can be given orally, you don't have to worry if cats lick themselves after it's been applied to their coats.
How to give it to your cat?
 Many veterinarians recommend starting slow with the coconut oil. A good starting dose is ¼ teaspoon for cats under 5kg of body weight daily or 2-3 times a week. It's suggested that coconut oil be provided no more than once a day because of its high fat content. Any cat who is receiving coconut oil should be closely monitored for weight gain.
*Net Weight 500ml
Store in a dry, dark place in the original sealed packaging.