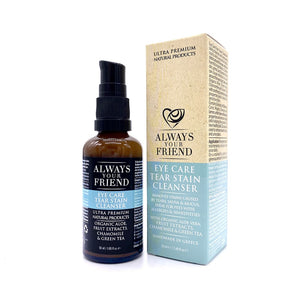 Description:
Eye Care Tear Stain Cleanser safely cleanses and removes stains and uncomfortable debris around the eyes without harmful ingredients. Cleans dirt, grime, and bacteria that can cause infection in and around the eyes. Eye Care uses Organic Aloe, Silver Ions, Chamomile and Green Tea with soothing properties and antimicrobial properties and is ideal for sensitive skin. Contains Extracts of Bilberry, Cane, Maple, Orange and Lemon, which have antioxidant properties and remove dead cells helping the growth of new healthy cells. Can also be used to remove stains beneath the mouth and clean the sensitive area.

- Can also be used for beard stains or for urine stains
- Removes build-up and stains caused by tears, saliva and mucus
- Gentle stain wash for pets with allergies and sensitivities
- With Plant-based highest quality ingredients and Silver Ions
- 99% Natural Origin Ingredients
The product is suitable for Dog, Cat, Rabbit, Guinea Pig & Horse.
Application
For protection/maintenance, use Eye Care once daily.
For stained fur, apply a generous amount of eye care to a cotton pad or a clean towel. Gently rub stained areas, moving away from the eyes. Avoid direct eye contact and abrasive rubbing. Use twice daily until all build-up of residue is removed.
Key Ingredients:
Silver Citrate
Silver kills germs when it oxidizes and releases silver ions, which are lethal to bacteria and yeast and viruses. The presence of colloidal silver near a virus, fungi, bacterium or any other single-celled pathogen disables its oxygen-metabolism enzyme, it's chemical lung, so to say. Unlike other metals such as lead and mercury, silver is not toxic to pets.

Organic Aloe Vera
Aloe vera contains proteolytic enzymes that repair dead skin cells on the skin. Aloe Vera is rich in minerals, vitamins, and enzymes. It is anti-bacterial, anti-fungal, anti-inflammatory, counteracts redness, helps heal wounds and calms irritated skin.

Free from Potentially Harmful Ingredients:
Eye Care contains No Bleach, Whitening Agents, Colorants, Boric Acid, Hydrogen Peroxide, Parabens, Ethanolamines, GMOs (Genetically Modified Organisms), Detergents, Propylene Glycol. It is Gluten-Free, Carbon Neutral & pH Balanced & Vegan.
Ingredients:
Water, Vaccinium Myrtillus Fruit Extract, Saccharum Officinarum Extract, Citrus Aurantium Dulcis Fruit Extract, Citrus Limon Fruit Extract, Acer Saccharum Extract, Euphrasia Officinalis flower/leaf/stem water, Camellia Sinensis leaf water, Hamamelis Virginiana Extract, Chamomilla Recutita Flower Extract, Glycerin, Aloe Barbadensis*, Silver Citrate, Betaine, Caprylic Capric Triglycerides, Guar Gum, Xanthan Gum, Caprylyl Glycol, Sodium Benzoate, Prunus Domestica Seed Extract.
50 ml ℮ / 1.69 fl oz