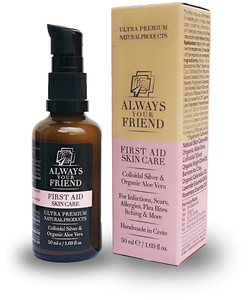 The first all-natural ointment for healthy skin. The First Aid Ointment is a combination of natural ingredients that create numerous amazing beneficial properties for your pet's skin. It is a great help for fast and effective skin regeneration while keeping bacteria away. The benefits of this innovative formula are the following:
- Helps treat scars, scratches & infections
- Soothes rashes and skin irritation
- Helps treat mosquito and flea bites and relieves itching
- Helps treat skin allergies
- Fights eczema & bacteria
The product is suitable for Dog, Cat, Rabbit, Guinea Pig & Horse.
​
Tip 1: Do not worry if your pet loves to lick her skin. You can feel confident knowing every last ingredient that goes into First Aid Skin Care is completely safe and natural!
​
Tip 2: It is always suggested to get veterinarian advice for any skin symptom. First Aid Skin Care can also work as a complementary therapy. 
Apply a thin layer over the required area 2 to 3 times daily and allow to absorb. Repeat the procedure at short intervals (2-3 times per day) until the issue is resolved. 
Colloidal Silver
Silver kills germs when it oxidizes and releases silver ions, which are lethal to bacteria and yeast and viruses. The presence of colloidal silver near a virus, fungi, bacterium or any other single-celled pathogen disables its oxygen-metabolism enzyme, it's chemical lung, so to say. Unlike other metals such as lead and mercury, silver is not toxic to pets.
Organic Aloe Vera
Aloe vera contains proteolytic enzymes which repair dead skin cells on the skin. Aloe Vera is rich in minerals, vitamins, and enzymes. It is anti-bacterial, anti-fungal, anti-inflammatory, counteracts redness, it helps heal wounds and calms irritated skin.
Vitamin E
Vitamin E is a powerful antioxidant that may be effective at reducing UV damage in the skin. Vitamin E may help nourish and protect the skin from damage caused by free radicals.
Organic Calendula Oil
Calendula has antiseptic properties, which are helpful for treating wounds. As a skin conditioner, it stimulates collagen production and it also reduces the occurrence of dry skin. Calendula is also a naturally occurring antioxidant. It contains anti-fungal properties too. As a result, it helps cure infections. 
Organic Extra Virgin Olive Oil
Naturally, extra virgin olive oil has many anti-ageing antioxidants and hydrating squalene, making it superb for hair and skin. Olive oil has a moisturizing effect that nourishes the skin and provides a long-lasting shield of moisture to keep skin smooth and supple. It also helps prevent dandruff and hair loss. 
Organic Beeswax
Beeswax is very beneficial to the skin and the healing process. It's anti-inflammatory, antiviral and anti-bacterial. Due to this, it contributes to the healing quality of the ointments. It soothes and softens the skin, and forms a protective layer that still allows the skin to breathe and heal.  It is also a natural product, that has not undergone industry processing.
Water, Aloe Barbadensis Miller*, Bentonite Clay, Colloidal Silver, Betaine, Glyceryl Stearate Citrate, Sucrose Stearate, Polyglyceryl-4 Stearate, Cetyl Alcohol, Sodium Ricinolate, Calendula Officinalis Flower Oil*, Olea Europaea (Olive) Fruit Oil*, Caprylic Capric Triglycerides, Phenoxyethanol, Caprylyl Glycol, Potassium Sorbate, Sodium Benzoate, Vitamin E Acetate. *Organically Cultivated
Free from Potentially 
Harmful Ingredients
The Natural First Aid Skin Care contains No SLS (Sodium Lauryl Sulphate), PEG, Colorants, Parabens, Mineral Oil, Ethanolamines, GMOs (Genetically Modified Organisms), Detergents, Propylene Glycol. It is Gluten-Free, Carbon Neutral & pH Balanced. 
Is colloidal silver safe and effective?
Colloidal silver is Atomic silver microparticles that attract electrons from the bacterial membrane and fracturing its structure. That renders the bacteria inactive. It's completely safe for advanced organisms (pets and humans) but very dangerous against simple and monocellular organisms such as bacteria.