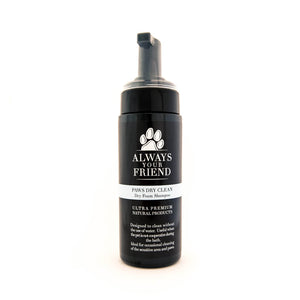 Product Description:

Premium Quality Dry Foam Shampoo with a playful Powder scent. A quick and easy way to clean the pet, anytime, everywhere without the use of water. Useful when the pet is not cooperative in the bathroom or for quick cleaning. Good also for occasional cleaning of the sensitive area, for ears & paws after a walk.
The product is highly concentrated for long-lasting.

Designed for sensitive skin and it can be used daily.

Can cover a larger area with the use of a wet towel.

Suitable for puppies too.

 
Can be used for cats too (cats are the cleanest pets) but yes the Dry Clean Shampoo is friendly to cats too. You can use it safely on your cat sensitive are or to tclean the coat but no so often as to dogs. Recommended time twice a month or as needed.
Use it on a dry or wet* towel or a napkin and then massage the pet on the required area. The formula is gentle and it can be used frequently. 
​
*If you use a wet towel, it is recommended to use a hairdryer afterwards. 
Organic Aloe Vera
Aloe vera contains proteolytic enzymes which repair dead skin cells on the skin. It also acts as a great conditioner and leaves the coat smooth and shiny. It promotes hair growth, prevents itching on the skin, reduces dandruff and conditions the hair. Aloe Vera is rich in minerals, vitamins, and enzymes. It is anti-bacterial, anti-fungal, anti-inflammatory, counteracts redness, it helps heal wounds and calms irritated skin.
​
Organic Extra Virgin Olive Oil
Naturally, olive oil has many anti-ageing antioxidants and hydrating squalene, making it superb for hair and skin. Olive oil has a moisturizing effect that nourishes the skin and provides a long-lasting shield of moisture to keep skin smooth and supple. It also helps prevent dandruff and hair loss. Also, olive oil helps strengthen individual hair strands to avoid hair splits.
​
Organic Jojoba Oil
Jojoba Oil contains many essential fatty acids, powerful antioxidants and vitamins. Jojoba Oil is naturally gentle and non-irritating, making it perfect for basically every skin type; it balances oily skin, soothes sensitive skin, and hydrates dry skin.
​
Organic Evening Primrose Oil
Evening Primrose oil has an amazing scent and it is a powerful ingredient for common skin woes like acne, wrinkles, and eczema. It is packed with Omega-6 fatty acids, crucial for healthy skin and nails. Evening primrose oil is an abundant source of fatty acids such as gamma-linolenic acid and antioxidants. Gamma-linolenic acid helps boost skin and hair regeneration, promoting hair regrowth. Nourishes the skin to ensure healthy hair growth.
​
Vitamin E
Vitamin E is a powerful antioxidant that may be effective at reducing UV damage in the skin. Vitamin E may help nourish and protect the skin from damage caused by free radicals. Also, vitamin E can help replenish shine that the hair losses as a result of damage.
​
Panthenol (Vitamin B5)
Panthenol is used as emollient and moisturizer because of its ability to bind to the hair providing hydration. Also, panthenol strengthens the hair shaft, strengthens the skin, counteracts eczema, itching, peeling skin, fragile coat, and hair loss. D Panthenol gives natural colour and lustre, adds volume, enhances the skin and coat quality, makes brushing easier, repairs damaged/worn coat and improves hair elasticity.
​
Colloidal Silver
Colloidal silver kills germs when it oxidizes and releases silver ions, which are lethal to bacteria and yeast and viruses. The presence of colloidal silver near a virus, fungi, bacterium or any other single-celled pathogen disables its oxygen-metabolism enzyme, it's chemical lung, so to say. 
Water, Aloe Barbadensis*, Natural Coconut and Rapeseed Derived Surfactants, Panthenol, Mild Preservative System, Extra Virgin Olive Oil*, Jojoba Oil*, Evening Primrose Oil*, Vitamin E, Fragrance.
*Organically Cultivated Ingredients
Free from Potentially 
Harmful Ingredients
Paws Dry Clean Shampoo contains No SLS (Sodium Lauryl Sulphate), Colorants, Parabens, Animal Derivatives, Mineral Oil, Ethanolamines, GMOs (Genetically Modified Organisms), Detergents, Propylene Glycol. It is Gluten-Free, Carbon Neutral & pH Balance