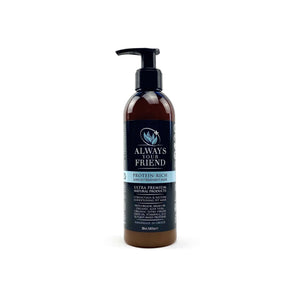 Description
Powerful Leave-in plant-based protein mask with vitamins E, C, D and active amino acids. A curative treatment that inserts into the coat for optimal conditioning. A rich blend of organic aloe, organic argan oil and organic extra virgin olive oil. Conditions the coat and penetrates mats and tangles leaving coats revitalized and easy to manage. Helps restore health, volume and natural brightness to dry coats. Repels dirt and dust for a long-lasting clean. A unique leave-in mask and dematting formula that is hypoallergenic and non-toxic. Can be used daily on wet or dry coats and does not require rinsing.
Can also be diluted up to 15:1 to use as a spray for daily combing. 

- Floral allergen-free scent
- Non-greasy formula
- Leaves coat soft & silky
- Penetrates mats and tangles to cut grooming time
- Creates an invisible coating on the hair that holds in moisture
- Anti-Freeze Effect
- Formulated to repel dirt and urine so coats stay cleaner longer
- Itching Skin Relief - Adds vital nutrients while moisturizing and conditioning.

Suggested Hair types: Any Hair Type
Designed for: Dog, Cat, Rabbit, Guinea Pig, Horse
Application:
On dry coat: Simply rub the mask into the pet's coat and skin and let dry without rinsing.

On wet coat (after bath): Rub lotion into the pet's coat and skin, dry well with a hairdryer for best results without rinsing.  

For daily brush (maintenance): Dilute up to 15 parts of water to 1 part of the conditioner. Spray the coat and then brush for daily maintenance
Natural Key Ingredients
Organic Aloe Vera
Aloe vera contains proteolytic enzymes that repair dead skin cells on the skin. It also acts as a great conditioner and leaves the coat smooth and shiny. It promotes hair growth, prevents itching on the skin, reduces dandruff and conditions the hair. Aloe Vera is rich in minerals, vitamins, and enzymes. It is anti-bacterial, anti-fungal, anti-inflammatory, counteracts redness, helps heal wounds, and calms irritated skin.
Organic Argan Oil
Its natural properties help eliminate dandruff and irritation. Argan oil is rich in natural phenols that are beneficial to hair follicles. Not only does it promote new hair growth, but also helps grow healthy, thick looking hair. It makes hair more manageable. Argan oil is proven to make hair softer, silkier and shinier. It is the ideal hair conditioner. Argan oil is also a skin moisturizer that hydrates and softens the skin. With its high vitamin E and fatty acid content, argan oil is the ideal product to give skin a natural boost. The antioxidants in argan oil are generally beneficial for healing skin that is irritated, cracked, damaged or even burned.
Organic Extra Virgin Olive Oil
Naturally, olive oil has many anti-ageing antioxidants and hydrating squalene, making it superb for hair and skin. Olive oil has a moisturizing effect that nourishes the skin and provides a long-lasting shield of moisture to keep the skin smooth and supple. It also helps prevent dandruff and hair loss. Also, olive oil helps strengthen individual hair strands to avoid hair splits.
Vegan Keratin Protein
Keratin protein helps with preventing hair breakage and helps promote hair growth. Keratin is also known to protect and strengthen and repair all hair types. Keratin protein is perfect to use on all skin types. It's packed with omega fatty acids, vitamin E, and linoleic acids, all of which work to lightly moisturize the skin and soften dry patches.
Vitamin E
Vitamin E is a powerful antioxidant that may be effective at reducing UV damage in the skin. Vitamin E may help nourish and protect the skin from damage caused by free radicals. Also, vitamin E can help replenish the shine that the hair loses as a result of damage.
Vitamin C
Vitamin C can prevent the effects of sun damage. Improves skin's texture and quality. Treats sunburn. Assists in the treatment of Eczema. Fights off dandruff and hair loss. Prevents hair from growing weak, brittle, and thin.

Vitamin D
Vitamin D is an important nutrient that is essential to our dog's health. It keeps skin healthy, stimulates cell growth, and helps create new hair follicles.
Panthenol (Vitamin B5)
Panthenol is used as an emollient and moisturizer because of its ability to bind to the hair providing hydration. Also, panthenol strengthens the hair shaft, strengthens the skin, counteracts eczema, itching, peeling skin, fragile coat, and hair loss. D Panthenol gives natural colour and lustre, adds volume, enhances the skin and coat quality, makes brushing easier, repairs damaged/worn coats, and improves hair elasticity.
Free from Potentially Harmful Ingredients
Protein-Rich Leave-in Mask contains No SLS (Sodium Lauryl Sulphate), Colorants, Parabens, Animal Derivatives, Mineral Oil, Ethanolamines, GMOs (Genetically Modified Organisms), Detergents, Propylene Glycol. It is Gluten-Free, Carbon Neutral, pH Balanced & Vegan.
---
Ingredients
Water, Hydrolyzed Vegan Proteins, Active Amino-Acids, Aloe Barbadensis Leaf Powder Juice*, Panthenol, Guar Gum, Xanthan Gum, Glycerin, Mild Preservation System, Vitamin E, Vitamin C, Vitamin D, Extra Virgin Olive Oil*, Argan Oil*, Conditioners, Antistatic Agents, Allergen-Free Fragrance.
*Organically Cultivated
250ML