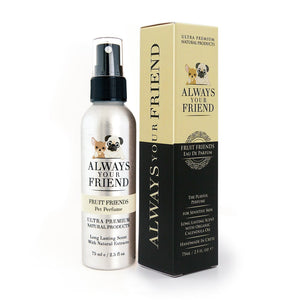 An exciting childhood memory of fruits bubblegum scent. The fragrance is soft, playful, inviting and of course fruity. The formula is gentle enough to use as often as needed and will not dry out the skin or the coat. 
​
Additional Benefits
Skincare enhancement
Moisturizing properties
Shake well before use. Spray directly on the coat 1 to 3 times depending on pet size. Avoid contact with eyes. It is suggested to use at a distance of 20 to 30 centimeters (1 foot). Avoid contact with eyes.
​Ideal use: 1-10kg 1-2 sprays, 10-30kg 3-4 sprays, 30+ kg 5-6 sprays
75 ml ℮ / 2.53 fl oz
Calming Lotion Application
Follow the above instructions and brush the coat to spread the lotion evenly.
Organic Calendula Oil
Calendula has antiseptic properties, which are helpful for treating wounds. As a skin conditioner, it stimulates collagen production and it also reduces the occurrence of dry skin. Calendula is also a naturally occurring antioxidant. It contains anti-fungal properties too. As a result, it helps cure infections. It is also a natural hair dye that highlights the hair colour.
​
Vitamin E
Vitamin E is a powerful antioxidant that may be effective at reducing UV damage in the skin. Vitamin E may help nourish and protect the skin from damage caused by free radicals. Also, vitamin E can help replenish shine that the hair loss as a result of damage.
​
Panthenol (Vitamin B5)
Panthenol is used as emollient and moisturizer because of its ability to bind to the hair providing hydration. Also, panthenol strengthens the hair shaft, strengthens the skin, counteracts eczema, itching, peeling skin, fragile coat, and hair loss. D Panthenol gives natural colour and lustre, adds volume, enhances the skin and coat quality, makes brushing easier, repairs damaged/worn coat and improves hair elasticity.
​
Glycerin
Glycerin is plant-derived. It is an emollient and humectant; it softens and moisturizes the skin by forming an oily layer on top that draws or traps water in/on the skin. It is used to treat many oily skin conditions, like acne and skin infections. It maximizes the healthiest hair possible.
Water, Fragrance, Glycerin, Panthenol, Emulsifiers, Calendula Officinalis Flower Oil*, Tocopheryl (Vitamin E) Acetate, Mild Preservative System, Tocopherol, Benzyl Alcohol.
*Organically Cultivated Ingredients
Free from Potentially 
Harmful Ingredients
Fruit Friends Perfume contains No SLS (Sodium Lauryl Sulphate), PEG, Colorants, Parabens, Mineral Oil, Ethanolamines, GMOs (Genetically Modified Organisms), Animal Derivatives, Detergents, Propylene Glycol. It is Gluten-Free, Carbon Neutral & pH Balanced.
Kids almost universally love to chew gum, and especially the fruit flavour variety is known as bubble gum. Blowing bubbles is a sort of childhood rite of passage. Chewing gum has a history that spans as far back as the ancient Greeks, who chewed the resin from mastic trees. However, it wasn't until 1928 that Walter Diemer happened upon just the right gum recipe to make the very first bubble gum, a special type of chewing gum that allows the chewer to make those big pink bubbles and a fruit flavour that kids love. In the years that followed fruit flavour bubble gum grown popularity and conserved childhood memories.