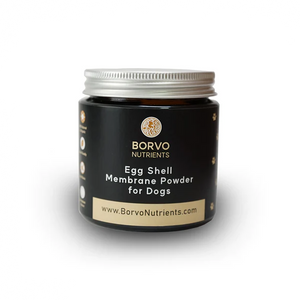 SUPPORT MUSCULOSKELETAL SYSTEM NATURALLY 
this product is an exceptional ingredient to support your dog's overall well-being. Rich in undenatured collagen types I, V, and X, along with essential biomolecules like hyaluronic acid, collagen, elastin, chondroitin sulphate & glucosamine, this supplement is a powerhouse of benefits that your dog will love.
studies:
clinical trial of eggshell membrane 1
clinical trial of eggshell membrane 2
Joint Health: The undenatured collagen, hyaluronic acid, and chondroitin sulphate found in eggshell membrane contribute to improved joint health. These components can help boost endogenous product in the cartilage, maintain joint viscoelasticity and lubrication, and protect cartilage, synovial membrane, and subchondrial bone.

Improved Tendon Resistance and Elasticity: Elastin, an essential protein found in eggshell membrane, helps increase tendon elasticity and resistance, enhancing your dog's agility and reducing the risk of injuries.

Supports Healthy Cartilage: Glucosamine is a key component that supports healthy cartilage, crucial for overall joint health and mobility.

Anti-inflammatory and Analgesic Effects: Hyaluronic acid within eggshell membrane not only supports joint health but also provides anti-inflammatory and analgesic effects, potentially reducing pain and discomfort in dogs with joint issues.

Enhanced Skin and Coat Health: The rich blend of proteins and essential biomolecules in eggshell membrane can contribute to improved skin health and a more radiant, healthier coat.

Highly Bioavailable: The compounds present in eggshell membrane are highly bioavailable, meaning they are easily absorbed and utilized by your dog's body, ensuring maximum benefits from each dose.
Recommended for:
puppies all breeds
safe for cats too
senior pets 
as a prevantion for hip & joint support
breeds that are prone to mobility issues like: maltese, doberman, german shepherd, french bulldog, great dane, poodles, active & sporting dogs.
Ingredients:
100% eggshell membrane european powder
Recommended Daily Dosage
toy breeds & cats: 1/4 of teaspoon daily
small breeds: 1/3 of teaspoon daily
medium & large breeds: half teaspoon daily
XL breeds: 1 teasppon daily
Feed at least daily 4-5 weeks to see improvement. Always consult with your vet or your nutritionist if you have any concerns about dietary changes for your dog.