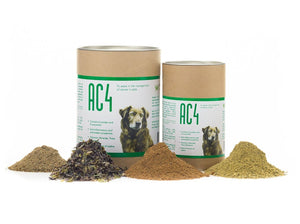 AC4 contains 4 seaweeds which each have been clinically proven to be effective in the fight against cancer...
Contains seaweeds and 1 red moss, each proven to be effective in the fight against cancer
Air dried to preserve the bioactive bits
Organic, wild, Irish
Rich in Antioxidants
Source of Vitamins: E, C, B complex 
Source of Trace Elements: Iodine, Selenium & Znic

Unique bioactive molecules, such as Fucoidan and Fucoxanthin
The bioactive compound Fucoidan is a natural sulfated polysaccharide mainly found in the cell wall matrix of various species of brown seaweed such as kombu, bladderwrack and wakame. The anti-cancer property of fucoidan has been demonstrated in vivo and in vitro in different types of cancers. However, it has been rarely investigated for its anti-cancer properties in clinical trials. Fucoidan mediates its activity through various mechanisms such as induction of cell cycle arrest, apoptosis and immune system activation. Additional activities of fucoidan have been reported that may be linked to the observed anti-cancer properties and these include induction of inflammation through immune system, oxidative stress and stem cell mobilisation.
You have to be very careful with claims concerning cancer. The organic, sustainably harvested seaweeds and mosses used in this product have been selected based on the results of the numerous clinical studies which we go through here. Each of the seaweeds chosen has been shown to be anti-tumour / anti-cancer in a range of clinical animal studies, largely rats. We absolutely cannot make any claims after this. We let the science speak for itself and sincerely hope it will help. There are no known drug clashes so far for AC4 and, in our opinion, it can be used alongside any recommended conventional treatments (but please consult with a good vet first).
*source: Dr Conor Brady
*AC4 IS NOT TO BE USED IN DOGS WITH THYROID ISSUES
RECOMMENTED DOSAGE DAILY: (included measure 2gr scoop)
SMALL CATS & DOGS UP TO 10KG 1 SCOOP PER DAY
MEDIUM DOGS 10-20KG 1-2 SCOOP PER DAY
LARGE DOGS 20KG+ 2-3 SCOOP PER DAY