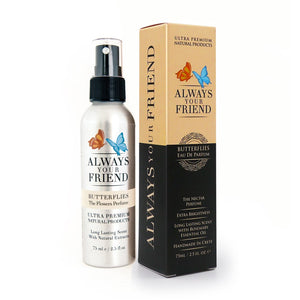 Butterflies collected the nectar of the most aromatic flowers and created an enthusiastic sunny fragrance of freshness and enjoyment. The Butterflies perfume is intense and creates a sense of care and cleanliness. The formula is gentle enough to use as often as needed and will not dry out the skin or the coat.
Additional Benefits:
Coat Health Improvement
Brightness Enhancement
Moisturizing Properties. 
75 ml.
Shake well before use. Spray directly on the coat 1 to 3 times depending on pet size. Avoid contact with eyes. It is suggested to use at a distance of 20 to 30 centimeters. Avoid contact with eyes.
Rosemary Essential Oil
Rosemary Oil has anti-inflammatory properties and strengthens circulation. As a result, it could prevent hair follicles from being starved of blood supply, dying off, and leading to hair loss. The nutrients of rosemary can help protect skin cells from damage often caused by the sun and free radicals. Since rosemary has natural antiseptic properties, it's a superior disinfectant for skin and hair. In fact, this essential oil is known to promote a healthy, moisturized coat.
​
Vitamin E
Vitamin E is a powerful antioxidant that may be effective at reducing UV damage in the skin. Vitamin E may help nourish and protect the skin from damage caused by free radicals. Also, vitamin E can help replenish shine that the hair loss as a result of damage.
​
Panthenol (Vitamin B5)
Panthenol is used as emollient and moisturizer because of its ability to bind to the hair providing hydration. Also, panthenol strengthens the hair shaft, strengthens the skin, counteracts eczema, itching, peeling skin, fragile coat and hair loss. D Panthenol gives natural colour and lustre, adds volume, enhances the skin and coat quality, makes brushing easier, repairs damaged/worn coat and improves hair elasticity.
​
Glycerin
Glycerin is plant-derived. It is an emollient and humectant; it softens and moisturizes the skin by forming an oily layer on top that draws or traps water in/on the skin. It is used to treat many oily skin conditions, like acne and skin infections. It maximizes the healthiest hair possible.
Water, Fragrance, Glycerin, Panthenol, Emulsifiers, Rosmarinus Officinalis (Rosemary) Essential Oil, Tocopheryl (Vitamin E) Acetate, Mild Preservative System, Benzyl Benzoate, Hexyl Cinnamal, Butylphenyl Methylpropional, Benzyl Salicylate, Hydroxycitronellal.
Free from Potentially 
Harmful Ingredients
Butterflies Perfume contains No SLS (Sodium Lauryl Sulphate), PEG, Colorants, Parabens, Mineral Oil, Ethanolamines, GMOs (Genetically Modified Organisms), Animal Derivatives, Detergents, Propylene Glycol. It is Gluten-Free, Carbon Neutral & pH Balanced.