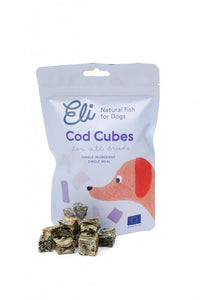 Say fishhh!!! Organic dog chef introduce you the new line of fish dog treats!
The cod cubes treats are made from wild Atlantic cod skin. Rich in the goodness of Omega 3's and vitamins, these crunchy bites taste amazing, and at the same time, provide numerous benefits for your dog.
Free from artificial flavoring, they are gluten-free and hypoallergenic. Made from 100% natural ingredients.
Omega 3 is an essential fatty acid that supports joint mobility, healthy vision, brain function, gut and gum health, and improves coat and skin condition. 
Low calorie
Wild - caught cod fish
100% Natural
Hypoallergenic
Gluten Free
No preservatives or additives
Ingredients: Atlantic cod skin 100%