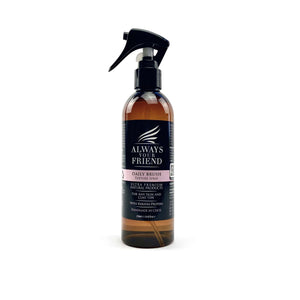 Description
Daily Brush Silky Texture Spray is a natural powerful conditioning & detangler spray for daily brushing. Perfectly safe for dogs or cats and can be used on wet or dry hair and will not leave a sticky feeling on the coat. Daily Brush Spray can be used for brushing to maintain hair in great condition. Daily Brush Spray reduces the stress of brushing and combing. Gentle formula can be used daily on wet or dry coats and does not require rinsing. 
Benefits of Daily Brush Spray
- Maintains and protects the coat
- Leaves coat soft & silky
- Adds lustre and enhances natural coat colours
- Non-greasy formula
Suggested Hair types: Any Coat Type
Designed for: Dog, Cat & Horse
Application
Spray the coat lightly. Comb the hair to spread the lotion evenly. Gently comb and brush through. 
Avoid spraying the eyes. 
---
Key Ingredients
Keratin Protein
Keratin protein helps with preventing hair breakage and helps promote hair growth. Keratin is also known to protect, strengthen and repair all hair types. Keratin protein is perfect to use on all skin types. It's packed with omega fatty acids, vitamin E, and linoleic acids, all of which work to lightly moisturize the skin and soften dry patches.
Silk Protein
A Silk Protein-enriched shampoo is able to block harmful UV rays and to decrease colour fading. Silk fibres are the strongest natural fibres known to man. Silk amino acids lock in moisture inside the hair shaft and improve elasticity to make the hair more resistant to breakage.
Vitamin E
Vitamin E is a powerful antioxidant that may be effective at reducing UV damage in the skin. Vitamin E may help nourish and protect the skin from damage caused by free radicals. Also, vitamin E can help replenish the shine that the hair loss as a result of damage.
Panthenol (Vitamin B5)
Panthenol is used as emollient and moisturizer because of its ability to bind to the hair providing hydration. Also, panthenol strengthens the hair shaft, strengthens the skin, counteracts eczema, itching, peeling skin, fragile coat, and hair loss. Panthenol gives natural colour and lustre, adds volume, enhances the skin and coat quality, makes brushing easier, repairs damaged/worn coat and improves hair elasticity.
---
Free from Potentially Harmful Ingredients
Daily Brush Texture Spray contains No Alcohol, SLS (Sodium Lauryl Sulphate), Colorants, Parabens, Mineral Oil, Ethanolamines, GMOs (Genetically Modified Organisms), Detergents, Propylene Glycol. It is Gluten-Free, Carbon Neutral & pH Balanced
Ingredients:
Water, Glycerin, Panthenol, Keratin Amino acids, Conditioning Agents, Mild Preservative System, Fragrance, Vitamin E acetate.
250 ml ℮ / 8.45 fl oz