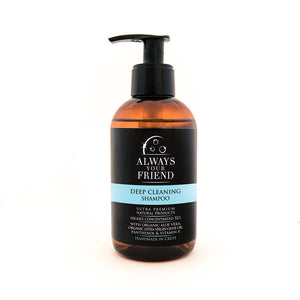 Description
Designed for use as a first-hand shampoo for efficient removal of dirt, grime, and odour without being harsh on the skin/coat. It is combined with all Always Your Friend shampoos, enhancing their performance.
Concentration: Highly Concentrated. It can be diluted up to 32 parts of water to 1 part of shampoo. Equivalent to 8000ml of shampoo when diluted.
Suggested Hair types: All Hair Types
Designed for: Dog, Cat, Horse
---
Application
Shake well before use. Moisten the coat with lukewarm water. Dilute the shampoo up to 32 parts of water to 1 part of shampoo. Massage thoroughly with the diluted shampoo and rinse. For optimum results, leave on for 5 to 10 minutes to allow the organic aloe vera and extra virgin olive oil to do their work. Then use any Always Your Friend Shampoo to complete the treatment. After the wash, dry well with a hairdryer.
---
Dilution
Deep Cleaning Shampoo is highly concentrated. Use 1 part of shampoo and up to 32 parts of lukewarm water. For example in a medium-size dog, use an empty bottle to add 20ml of shampoo and 640ml of lukewarm water and then shake well for 10 seconds. 
---
Natural Key Ingredients
Organic Aloe Vera
Aloe vera contains proteolytic enzymes that repair dead skin cells on the skin. It also acts as a great conditioner and leaves the coat smooth and shiny. It promotes hair growth, prevents itching on the skin, reduces dandruff and conditions the hair. Aloe Vera is rich in minerals, vitamins, and enzymes. It is anti-bacterial, anti-fungal, anti-inflammatory, counteracts redness, helps heal wounds and calms irritated skin.
Organic Extra Virgin Olive Oil
Naturally, olive oil has many anti-ageing antioxidants and hydrating squalene, making it superb for hair and skin. Olive oil has a moisturizing effect that nourishes the skin and provides a long-lasting shield of moisture to keep skin smooth and supple. It also helps prevent dandruff and hair loss. Also, olive oil helps strengthen individual hair strands to avoid hair splits.
Vitamin E
Vitamin E is a powerful antioxidant that may be effective at reducing UV damage in the skin. Vitamin E may help nourish and protect the skin from damage caused by free radicals. Also, vitamin E can help replenish the shine that the hair loses as a result of damage.
Panthenol (Vitamin B5)
Panthenol is used as an emollient and moisturizer because of its ability to bind to the hair providing hydration. Also, panthenol strengthens the hair shaft, strengthens the skin, counteracts eczema, itching, peeling skin, fragile coat, and hair loss. Panthenol gives natural colour and lustre, adds volume, enhances the skin and coat quality, makes brushing easier, repairs damaged/worn coat and improves hair elasticity.
Glycerin
Glycerin is plant-derived. It is an emollient and humectant; it softens and moisturizes the skin by forming an oily layer on top that draws or traps water in/on the skin. It is used to treat many oily skin conditions, like acne and skin infections. It maximizes the healthiest hair possible.
---
Free from Potentially Harmful Ingredients
Deep Cleaning Shampoo contains No SLS (Sodium Lauryl Sulphate), Colorants, Parabens, Animal Derivatives, Mineral Oil, Ethanolamines, GMOs (Genetically Modified Organisms), Detergents, Propylene Glycol. It is Gluten-Free, Carbon Neutral & pH Balanced.
---
Ingredients
Water, Glycerin, Aloe Barbadensis*, Coconut and Rapeseed Derived Surfactants, Panthenol, Mild Preservative System, Conditioning Agents, Olea Europaea Oil*, Vitamin E Acetate, Fragrance.
*Organically Cultivated Ingredients
250 ml