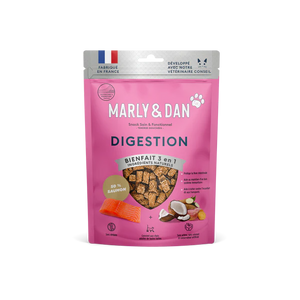 This natural snack promotes a healthy digestive balance by combining natural ingredients such as ginger, coconut and sweet potato. This high-fiber snack will be a bonus for the healthy functioning of your furry companion's the intestinal tract.
Salmon
High in protein, essential fatty acids (Omega-3) and nutrients, it ensures a healthy, beautiful coat for your pet and is essential for maintaining muscles, organs and metabolism. Boosts the immune system and helps inhibit infectious processes in the body.
Ginger
An excellent anti-nauseant and anti-emetic for motion sickness; it has anti-inflammatory and antibacterial properties that promote proper metabolic function, protect the body from infection, and builds a strong protective foundation for the immune and digestive systems.
Yucca extract
Helps reduce stool odor and fight coprophagia.
Sweet potato
A delicious and excellent source of highly digestible carbohydrates and energy, rich in vitamin A, beta-carotene and low in fiber; it has a low glycemic index and helps maintain a healthy weight and lower blood sugar levels.