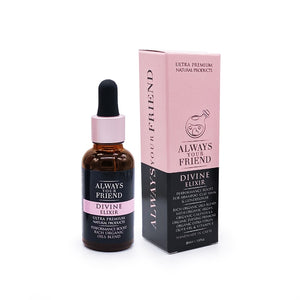 Description
Divine Elixir is a rich organic oils blend that boosts the performance of grooming products such as shampoos, Conditioner, and Clay Mask. It provides great hydration, restores softness, shine, and elasticity while it promotes hair growth and enhances skin's health. Divine Elixir can also be used as a mist spray to hydrate and nourish the coat.
Benefits of Divine Elixir
- Promotes Hair Growth
- Great Hydration
- Repairs Mantle
- Helps Healing the Skin
- Enhances Natural Coat Colours
- Leaves coat soft touch
- Protects the coat

Suggested Hair types: Any Coat Type
Designed for: Dog, Cat & Horse
Applications
1. Can be diluted up to 1 part of Divine Elixir to 80 parts of Concentrated Shampoo (at 1lt shampoo bottle add 12.5ml of Divine Elixir & at 250ml shampoo bottle add 4ml of Divine Elixir)
2. Add 3 to 5 ml of Divine Elixir to an already diluted shampoo
3. Can be used to enhance Rejuvenation Conditioner's performance, similar use with shampoo.
4. Can be used to enhance Green Clay Mask's performance, similar use with shampoo.
5. Can be used as a mist spray. Dilute 1 ml of Divine Elixir to 20ml of water and spray from a distance to hydrate and nourish the coat.
---
Natural Key Ingredients
Organic Argan Oil
Its natural properties help eliminate dandruff and irritation. Argan oil is rich in natural phenols that are beneficial to hair follicles. Not only does it promote new hair growth, but also will help grow healthy, thick looking hair. It makes hair more manageable. Argan oil is proven to make hair softer, silkier, and shinier. It is the ideal hair conditioner. Argan oil is also a skin moisturizer that hydrates and softens the skin. With its high vitamin E and fatty acid content, argan oil is the ideal product to give skin a natural boost. The antioxidants in argan oil are generally beneficial for healing skin that is irritated, cracked, damaged, or even burned.
Organic Evening Primrose Oil
Evening Primrose oil has an amazing scent and it is a powerful ingredient for common skin woes like acne, wrinkles, and eczema. It is packed with Omega-6 fatty acids, crucial for healthy skin and nails. Evening primrose oil is an abundant source of fatty acids such as gamma-linolenic acid and antioxidants. Gamma-linolenic acid helps boost skin and hair regeneration, promoting hair regrowth. Nourishes the skin to ensure healthy hair growth.
Organic Calendula Oil
Calendula has antiseptic properties, which are helpful for treating wounds. As a skin conditioner, it stimulates collagen production and it also reduces the occurrence of dry skin. Calendula is also a naturally occurring antioxidant. It contains anti-fungal properties too. As a result, it helps cure infections. It is also a natural hair dye that highlights the hair colour.
Organic Extra Virgin Olive Oil
Naturally, olive oil has many anti-aging antioxidants and hydrating squalene, making it superb for hair and skin. Olive oil has a moisturizing effect that nourishes the skin and provides a long-lasting shield of moisture to keep skin smooth and supple. It also helps prevent dandruff and hair loss. Also, olive oil helps strengthen individual hair strands to avoid hair splits.
Vitamin E
Vitamin E is a powerful antioxidant that may be effective at reducing UV damage in the skin. Vitamin E may help nourish and protect the skin from damage caused by free radicals. Also, vitamin E can help replenish the shine that the hair loses as a result of damage.
---
Free from Potentially Harmful Ingredients
Divine Elixir is waterless and does not contain any harmful ingredients.
Ingredients:
Argan Oil*, Evening Primrose Oil*, Calendula Oil*, Extra Virgin Olive Oil*, Caprylic Capric Triglycerides, Emulsifiers, Mild Preservative System, Vitamin E Acetate.
*Organically Cultivated
30 ml ℮