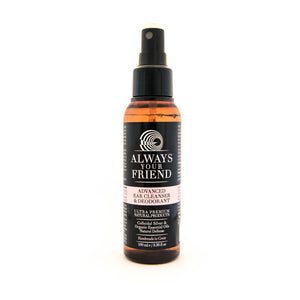 Advanced Ear Cleanser is a 2 in 1 Silver lotion that is great for cleaning the ears/ear canal and deodorizing paws & skin. It fights bacteria and fungi, removes dust and excess wax without irritating in the most natural way. Great assistance for numerous ear diseases and allergies. Excellent for protection of the ear and ear canal from potential threats, especially for pets with outdoor activities. It can also be used as a deodorant eliminating the bacteria that cause bad odor and it works from the first use. Excellent natural deodorant for paws and for short hair breeds such us Pug and French Bulldog. 
​
Suitable for Dogs, Cats, Rabbits & Horses. 
Best stored in a dark place. 
Shake well before use. Spray on a cotton pad (or cotton wool) and gently massage the outside of the ear canal until you wipe away any visible dirt and earwax. It is suggested to use weekly for maintenance and protection.
​
*Always seek a veterinary surgeons advice if the dog's ear is painful, if the production of wax has increased or if any head tilt develops.
Shake well before use. Spray directly the coat and then brush it to spread the deodorant evenly. Avoid spraying the eyes or nose. If this occurs wash with plenty of water. Ideal for everyday use. The deodorant effect can last up to a week. 
Silver Citrate
Silver kills germs when it oxidizes and releases silver ions, which are lethal to bacteria and yeast and viruses. The presence of colloidal silver near a virus, fungi, bacterium or any other single celled pathogen disables its oxygen-metabolism enzyme, its chemical lung, so to say.  Unlike other metals such as lead and mercury, silver is not toxic to pets or humans.
​
Tea Tree Oil
Tea tree oil proves to be a good natural remedy for hair growth. Tea tree oil has proven natural anti-fungal and antibacterial properties that help in maintaining a clean, healthy skin and strong, healthy hair follicles. It helps remove all the dead skin as well as to get rid of skin fungi and bacteria.
​
Peppermint Oil
Peppermint oil is good for hair and skin. It may help with dryness, itching, or other skin problems. The benefits of peppermint essential oil can be described as: antimicrobial. peppermint oil can help stimulate hair growth because of its ability to increase blood circulation around the scalp.
Water, Silver Microparticles (Silver Citrate), Emulsifiers, Mentha Piperita Essential Oil, Melaleuca Alternifolia (Tea Tree) Leaf Oil.
Free from Potentially 
Harmful Ingredients
Advanced Ear Cleanser & Deodorant contains No Alcohol, SLS (Sodium Lauryl Sulphate), PEG, Colorants, Parabens, Animal Derivatives, Mineral Oil, Ethanolamines, GMOs (Genetically Modified Organisms), Detergents, Propylene Glycol. It is Gluten-Free, Carbon Neutral & pH Balanced.