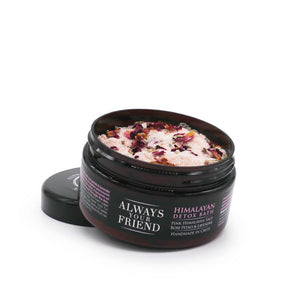 Description:
The amazing properties of the pink salt with rose petals & lavender help soothe tired muscles, stimulate the circulation and nourish and cleanse the skin. When dissolved in the water, it becomes an ionic solution that helps to flush toxins out through the skin.
The product is suitable for Dogs, Cats, Rabbits & Horses.
Key Ingredients
Pink Salt
Rose Petals
Lavender
Application
Dissolve 50 grams of the mixture in a shallow warm water bath (8 - 12 cm depth), gently pour the water over the coat repeatedly for 5 minutes, rinse thoroughly with plenty of water. 
Avoid contact with eyes and if a reaction occurs please discontinue use.
200 gr 
Ingredients
Sodium Chloride, Rosa Centifolia, Lavandula Angustifolia
Did You Know?
Himalayan Pink Salt
Himalayan pink salt is one of the purest salts that can be found on the earth. Millions of years ago, sea salt beds that have now been raised up in the Himalayan Mountains, were covered over by a layer of molten lava, which protected it from pollution in the air. Himalayan pink salt is packed full of minerals, which is what makes it so beneficial and rejuvenating. 
Rose Petals
Since ancient times, roses have been used medicinally, nutritionally, and as a source of perfume. Rosewater helps maintain the skin's pH balance and also controls excess oil. It also has anti-inflammatory, antibacterial, and antioxidant properties that help strengthen skin cells, aid in healing scars, and reduce the redness of irritated skin. Due to the astringent like properties it possesses, it helps clean pores. Rosewater works wonders as a natural conditioner and revitalizes hair growth.
Lavender 
The origin of Lavender is believed to be from the Mediterranean, Middle East, and India. Its history goes back some 2500 years. Lavender is a flowering plant of the mint family known for its beauty, its sweet floral fragrance, and its multiple uses. Lavender derives its name from the Latin 'lavare' meaning 'to wash". Lavender is a great soothing flower plant. Lavender may help alleviate anxiety in part by inducing a calming effect on the central nervous system while detox treatment takes place.