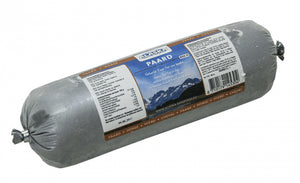 Benefits Of Raw Diet:
Relieves Allergies
Optimum Digestion
More Energy 
Better Gut Microbiome
Better Nutrition
Healthier & Shinier Coat
Improves Overall Health
Smaller & Better Poops
Stronger Immune System
An ideal meal for dogs on a low fat diet

Ideal for liver support
Recommended for senior dogs
Suitable for Allergy Dogs

100% Natural Fresh Ingredients

Gluten and grain-free

Singel Protein Meal

Made in Holland

Ingredients fit for human consumption

Deep-frozen product
Ingredients:
85% Horse: meat (50%), heart (10%), meaty ribs (20%), liver (5%), 15% vegetable mix : carrot (5%), spinach (5%), cauliflower (5%).
nutritional analysis:
protein 17%/ fats 8%/ Ca:P 2.25%/ energy 139kcal/100gr
 * Keep in mind that any raw food package when you defrost it in the fridge it stays fresh only 3 days. So please it is important to choose the right package size. 
* Always defrost in the fridge, please wash your hand & your pet bowl good after meal served.

FEEDING CHART FOR PUPPIES:
2-4 MONTHS OLD: 10-8% of body weight
4-6 MONTHS OLD: 8-6% of body weight
6-8 MONTHS OLD: 6-4% of body weight 
8-12 MONTHS OLD: 4-3% of body weight
FEEDING CHART FOR ADULTS & SENIOR:
3-2% of body weight