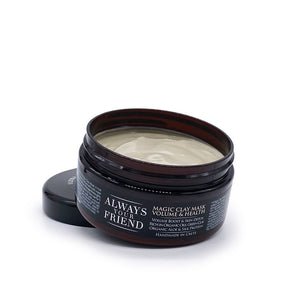 Description
Magic Clay Mask is a strong transformation cream that boosts volume and sustains hair texture. Ideal on double and wired coats. Magic Clay Mask deeply nurtures the coat providing coat restoration. It forms a protective layer over injuries and also naturally repels insects. It has a calming and soothing effect on a dog's itchy or traumatised skin, breaking the itch, scratch cycle.
+Great product for skin treatment. 
Concentration: If used alone, dilution up to 10:1. Equivalent to 2500ml when diluted. 
Suggested Hair types: Wired, Curly & Double Coats.
Designed for: Dog, Cat, Rabbit, Guinea Pig, Horse
Application
Dilute a tablespoon of the Green Clay Mask in hot water. Once you get a creamy texture add cold water until you have a lukewarm mixture. Massage thoroughly with the Clay Mask for 5-10 minutes. Leave on the coat for 5 minutes and rinse well. Then dry well with a towel.  If possible, use a hairdryer as well.

*In case you use Posh Volume Hair Spray afterwards, wrap the pup with a dry towel for 5 minutes without massaging and then use volume spray.

*Use the clay mask after bathing or after the first rinse of the bath. It can also be used for skin treatment without the shampoo for moisturizing and healing the skin.
Natural Key Ingredients
Green Clay
Green clay is an organic material comprised of a host of essential minerals, iron oxides, and decomposed plant material such as kelp and seaweed. Green clay is used in alternative medicine, both externally and internally, for many reasons, but mostly for cleaning and detox because of its vast absorbent properties. Green Clay is beneficial for hair and can encourage hair growth. It moisturizes, conditions and reduces frizz.

Organic Aloe Vera
Aloe vera contains proteolytic enzymes that repair dead skin cells on the skin. It also acts as a great conditioner and leaves the coat smooth and shiny. It promotes hair growth, prevents itching on the skin, reduces dandruff and conditions the hair. Aloe Vera is rich in minerals, vitamins, and enzymes. It is anti-bacterial, anti-fungal, anti-inflammatory, counteracts redness, helps heal wounds, and calms irritated skin.
Organic Extra Virgin Olive Oil
Naturally, olive oil has many anti-ageing antioxidants and hydrating squalene, making it superb for hair and skin. Olive oil has a moisturizing effect that nourishes the skin and provides a long-lasting shield of moisture to keep skin smooth and supple. It also helps prevent dandruff and hair loss. Also, olive oil helps strengthen individual hair strands to avoid hair splits.
Organic Jojoba Oil
Jojoba Oil contains many essential fatty acids, powerful antioxidants, and vitamins. Jojoba Oil is naturally gentle and non-irritating, making it perfect for basically every skin type; it balances oily skin, soothes sensitive skin, and hydrates dry skin.
Organic Calendula Oil
Calendula has antiseptic properties, which are helpful for treating wounds. As a skin conditioner, it stimulates collagen production and it also reduces the occurrence of dry skin. Calendula is also a naturally occurring antioxidant. It contains anti-fungal properties too. As a result, it helps cure infections. It is also a natural hair dye that highlights the hair colour.
Organic Evening Primrose Oil
Evening Primrose oil has an amazing scent and it is a powerful ingredient for common skin woes like acne, wrinkles, and eczema. It is packed with Omega-6 fatty acids, crucial for healthy skin and nails. Evening primrose oil is an abundant source of fatty acids such as gamma-linolenic acid and antioxidants. Gamma-linolenic acid helps boost skin and hair regeneration, promoting hair regrowth. Nourishes the skin to ensure healthy hair growth.
Organic Argan Oil
Its natural properties help eliminate dandruff and irritation. Argan oil is rich in natural phenols that are beneficial to hair follicles. Not only does it promote new hair growth, but it also helps grow healthy, thick looking hair. It makes hair more manageable. Argan oil is proven to make hair softer, silkier, and shinier. It is the ideal hair conditioner. Argan oil is also a skin moisturizer that hydrates and softens the skin. With its high vitamin E and fatty acid content, argan oil is the ideal product to give skin a natural boost. The antioxidants in argan oil are generally beneficial for healing skin which is irritated, cracked, damaged, or even burned.
Keratin Protein
Keratin protein helps with preventing hair breakage and helps promote hair growth. Keratin is also known to protect, strengthen and repair all hair types. Keratin protein is perfect to use on all skin types. It's packed with omega fatty acids, vitamin E, and linoleic acids, all of which work to lightly moisturize the skin and soften dry patches.
Silk Protein
A Silk Protein-enriched shampoo is able to block harmful UV rays and to decrease colour fading. Silk fibres are the strongest natural fibres known to man. Silk amino acids lock in moisture inside the hair shaft and improve elasticity to make the hair more resistant to breakage.
Panthenol (Vitamin B5)
Panthenol is used as emollient and moisturizer because of its ability to bind to the hair providing hydration. Also, panthenol strengthens the hair shaft, strengthens the skin, counteracts eczema, itching, peeling skin, fragile coat, and hair loss. D Panthenol gives natural colour and lustre, adds volume, enhances the skin and coat quality, makes brushing easier, repairs damaged/worn coat, and improves hair elasticity.
Vitamin E
Vitamin E is a powerful antioxidant that may be effective at reducing UV damage in the skin. Vitamin E may help nourish and protect the skin from damage caused by free radicals. Also, vitamin E can help replenish the shine that the hair loss as a result of damage.
Glycerin
Glycerin is plant-derived. It is an emollient and humectant; it softens and moisturizes the skin by forming an oily layer on top that draws or traps water in/on the skin. It is used to treat many oily skin conditions, like acne and skin infections. It maximizes the healthiest hair possible.
Free from Potentially Harmful Ingredients
Magic Clay Mask contains No SLS, SLES, Colorants, Parabens, Animal Derivatives, Mineral Oil, Ethanolamines, GMOs (Genetically Modified Organisms), Detergents, Propylene Glycol. It is Gluten-Free, Carbon Neutral & pH Balanced.
Ingredients
Water, Green Clay, Aloe Vera*, Cationic Emulsifiers, Caprylic Capric Triglycerides, Extra Virgin Olive Oil*, Argan Oil*, Evening Primrose Oil*, Jojoba Oil*, Calendula Oil*, Conditioning Agents, Panthenol, Glycerin, Betaine, Keratin, Silk Amino Acids, Mild Preservative System, Tocopheryl (Vitamin E) Acetate.
200 ml ℮ / 6.76 fl oz ℮