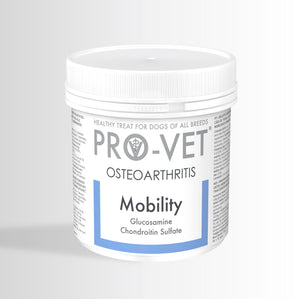 PRO-VET Mobility healthy tablets contain marine lipid extract from Green Lipped Mussels (Perna Canaliculus) sourced from the unpolluted coastal waters of New Zealand. N. Z. Green Lipped Mussel extract is high quality and known for it's benefits as a food for joint health and maintaining body mobility.
N.Z. Green Lipped Mussel extract is naturally high in Glucosamine and Chondroitin Sulphate and Omega 3 fatty acids - all known to be useful for the management of joint pain.
Chondroitin and Glucosamine are both natural components of cartilage and are used by the body to build cartilage.
PRO-VET "Mobility" healthy tablets contains 100% pure New Zeeland Shark Cartilage.Shark Cartilage is promoted as a remedy for arthritis and inflammation.
Shark Cartilage powder is a natural source of Chondroitin Sulphate and Glucosamines, which is a key structural component in cartilage providing natural joint support. Shark cartilage powder provide the angiogenesis – inhibiting proteins that are necessary to provide the proper environment in joint cartilage. It has also been recommended for reducing inflammation and pain in the joints.
For all breed dogs
Made in Holland 
Veterinary Formulated 
Suitable for all ages 
Ingredients: dehydrated whey, wheat starch, dekstrose, vitamins, N.Z. green lipped mussel extract, shark cartilages poweder.
Additives/kg: vitamin B1 0.08%, vitamin B2 0.11%, vitamin B3 0.059%, vitamin B6 0.006%, vitamin B12 0.71%, vitamin A 6.025 IE, vitamin D3 668 IE, vitamin E 185mg.
Analysis: crude protein 11%, crude fat 3%, crude ash 5%, crude fiber 0.29%.
Daily consumption: minimum 4 tablets for each 10kg of body weight, regularly.
Produced and packed in Holland.
Net weight: 150gr
Form: 90 tablets