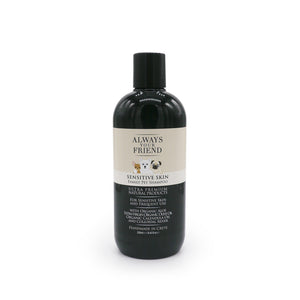 Description
A great natural & safe colloidal silver shampoo designed for sensitive skin. The gentle formula shampoo soothes irritation and brings comfort to an itchy pup. An amazing shampoo for the elimination of bad odor, allergies, and skin conditions. The gentle formula soothes irritation and helps to rebuild healthy cells. The shampoo cleans dirt while it smoothes the hair and enhances shine. A natural blend of organic aloe, organic calendula oil, extra virgin organic olive oil, and colloidal silver. Great shampoo for any skin treatment or allergies. 
Concentration: It can be diluted up to 10:1. Equivalent to 2500ml when diluted. It can also be used directly on fur. 
Suggested Hair types: Any hair type
Designed for: Dog, Cat, Rabbit, Horse 
Application
Shake well before use. Wet coat thoroughly with warm water and apply the shampoo liberally, massaging gently through the coat and avoiding the eye area. For optimum results, leave on for up to 5 minutes to allow the essential οils and botanicals to do their work. Rinse thoroughly and repeat as necessary. You can also dilute the shampoo up to 10 parts of water and 1 part of shampoo in an empty bottle. Remember to dry well with a warm towel.
Natural Key Ingredients
Organic Aloe Vera
Aloe vera contains proteolytic enzymes that repair dead skin cells on the skin. It also acts as a great conditioner and leaves the coat smooth and shiny. It promotes hair growth, prevents itching on the skin, reduces dandruff and conditions the hair. Aloe Vera is rich in minerals, vitamins, and enzymes. It is anti-bacterial, anti-fungal, anti-inflammatory, counteracts redness, helps heal wounds and calms irritated skin.
Colloidal Silver
Colloidal silver kills germs when it oxidizes and releases silver ions, which are lethal to bacteria and yeast and viruses. The presence of colloidal silver near a virus, fungi, bacterium or any other single-celled pathogen disables its oxygen-metabolism enzyme, it's chemical lung, so to say. 
Organic Extra Virgin Olive Oil
Naturally, olive oil has many anti-aging antioxidants and hydrating squalene, making it superb for hair and skin. Olive oil has a moisturizing effect that nourishes the skin and provides a long-lasting shield of moisture to keep skin smooth and supple. It also helps prevent dandruff and hair loss. Also, olive oil helps strengthen individual hair strands to avoid hair splits.
Organic Calendula Oil
Calendula has antiseptic properties, which are helpful for treating wounds. As a skin conditioner, it stimulates collagen production and it also reduces the occurrence of dry skin. Calendula is also a naturally occurring antioxidant. It contains anti-fungal properties too. As a result, it helps cure infections. It is also a natural hair dye that highlights the hair color.

Vitamin E
Vitamin E is a powerful antioxidant that may be effective at reducing UV damage in the skin. Vitamin E may help nourish and protect the skin from damage caused by free radicals. Also, vitamin E can help replenish the shine that the hair loss as a result of damage.
Panthenol (Vitamin B5)
Panthenol is used as emollient and moisturizer because of its ability to bind to the hair providing hydration. Also, panthenol strengthens the hair shaft, strengthens the skin, counteracts eczema, itching, peeling skin, fragile coat, and hair loss. Panthenol gives natural color and luster, adds volume, enhances the skin and coat quality, makes brushing easier, repairs damaged/worn coat and improves hair elasticity.
Glycerin
Glycerin is plant-derived. It is an emollient and humectant; it softens and moisturizes the skin by forming an oily layer on top that draws or traps water in/on the skin. It is used to treat many oily skin conditions, like acne and skin infections. It maximizes the healthiest hair possible.
Free from Potentially Harmful Ingredients
Sensitive Skin Family Pet Shampoo contains No SLS, SLES, Colorants, Fragrance, Parabens, Animal Derivatives, Mineral Oil, Ethanolamines, GMOs (Genetically Modified Organisms), Detergents, Propylene Glycol and Synthetic Fragrances. It is Gluten-Free, Carbon Neutral & pH Balanced.
Ingredients:
Aqua, Disodium Laureth Sulfosuccinate, Sodium Lauroamphoacetate, Glycerin, PEG-4 Rapeseedamide, Polyquaternium 7, Phenoxyethanol, Glycol Distearate, Aloe Barbadensis Leaf Juice Powder*, PEG – 120 Methyl Glucose Diolate, Acrylates/C10-30 Alkyl Acrylate Crosspolymer, PEG - 6 Caprylic Capric Glycerides, Polysorbate 20, Sodium Benzoate, Panthenol, Polyquaternium 10, Sodium Gluconate, Olea Europaea Fruit Oil*, Potassium Sorbate, Calendula Officinalis Flower Oil*, Colloidal Silver, Silver Citrate, Caprylyl Glycol, Guar Hydroxypropyltrimonium Chloride, Mentha Spicata Herb Oil, Mentha Piperita Oil, Glycine Soja Oil, Tocopheryl Acetate, Tocopherol, Triethanolamine. 
*Organically Cultivated Ingredients
250 ml ℮ / 8.45 fl oz