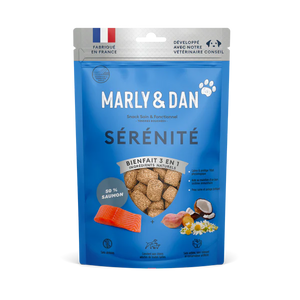 This snack offers natural support in the management of your dog's stress levels thanks to the soothing effects of natural ingredients such as chamomile and valerian.
Salmon
High in protein, essential fatty acids (Omega-3) and nutrients, it ensures a healthy, beautiful coat for your pet and is essential for maintaining muscles, organs and metabolism. Boosts the immune system and helps inhibit infectious processes in the body.
Coconut
High in fiber, protein, and healthy fats, coconut is an appealing gluten-free alternative to cereal and is low in sugar. It can be beneficial in supporting a healthy metabolism and balanced blood sugar levels, and in maintaining optimal digestive function. It is a healthy nutrient-rich food that keeps the skin healthy and moisturized. Including coconut in your pet's regular diet is a simple and natural way to ensure that your furry companion has healthy skin and a shiny coat.
Chamomile
Used for its healing effects, it is a natural source of antioxidants that have antiseptic and antiparasitic properties. Helps fight anxiety.
Sweet potato
A delicious and excellent source of highly digestible carbohydrates and energy, rich in vitamin A, beta-carotene and low in fiber; it has a low glycemic index and helps maintain a healthy weight and lower blood sugar levels.
Valerian
Commonly used for dogs that suffer from anxiety due to loud noises (such as thunderstorms or fireworks), dogs who are fearful of car rides and vet visits, dogs that have trouble sleeping at night, and dogs with separation anxiety.