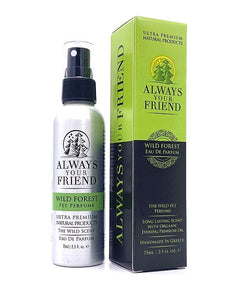 Wild Forest is an airy and earthy perfume, with rich Sandalwood scent, Evening Primrose & Forest Poppy notes. A botanical paradise in a bottle. The formula is gentle enough to use as often as needed and will not dry out the skin or the coat.
Additional Benefits:
- Skin Hydration
- Healthier Skin
- Enhances Hair Quality
Suggested Hair types: Any Coat Type Designed for: Dog, Cat & Horse.
Perfume Application:
Shake well before use. Spray directly on the coat 1 to 3 times depending on pet size. Avoid contact with eyes. It is suggested to be used at a distance of 20 to 30 centimeters. 
Free from Potentially Harmful Ingredients:
Wild Forest Perfume contains No Alcohol, SLS (Sodium Lauryl Sulphate), PEG, Colorants, Parabens, Mineral Oil, Ethanolamines, GMOs (Genetically Modified Organisms), Animal Derivatives, Detergents, Propylene Glycol. It is Gluten-Free, Carbon Neutral & pH Balanced.
Ingredients:
Water, Fragrance, Glycerin, Panthenol, Emulsifiers, *Organic Evening Primrose Oil, Tocopheryl Acetate, Mild Preservative System.
*Organically Cultivated Ingredients
75 ml ℮