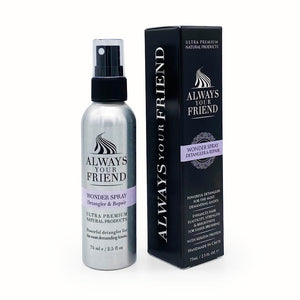 At last, brushing becomes fun and easy. This natural Detangler is the perfect anti-static lotion to help loosen the most demanding knots. Ideal for all pets with long or curly hair. Eliminates static electricity and prevents dust sticking to the hair. Boosts hair strength and elasticity while repairing and moisturizing the coat. It leaves the coat soft and shiny with an irresistible orchid scent. Designed for professional results for everyone.
Spray directly on knots and massage while detangling. Can be sprayed to facilitate brushing to protect the coat. Can be applied on a dry or a wet coat and it is also safe for frequent use for easier brushing. 
Beneficial Key Ingredients
Rosemary Essential Oil
Rosemary Oil has anti-inflammatory properties and strengthens circulation. As a result, it could prevent hair follicles from being starved of blood supply, dying off, and leading to hair loss. The nutrients of rosemary can help protect skin cells from damage often caused by the sun and free radicals. Since rosemary has natural antiseptic properties, it's a superior disinfectant for skin and hair. In fact, this essential oil is known to promote a healthy, moisturized coat.
​
Keratin Protein
Keratin protein helps with preventing hair breakage and helps promote hair growth. Keratin is also known to protect, strengthen and repair all hair types. Keratin protein is perfect to use on all skin types. It's packed with omega fatty acids, vitamin E, and linoleic acids, all of which work to lightly moisturize the skin and soften dry patches.
​
Vitamin E
Vitamin E is a powerful antioxidant that may be effective at reducing UV damage in the skin. Vitamin E may help nourish and protect the skin from damage caused by free radicals. Also, vitamin E can help replenish shine that the hair loss as a result of damage.
​
Panthenol (Vitamin B5)
Panthenol is used as emollient and moisturizer because of its ability to bind to the hair providing hydration. Also, panthenol strengthens the hair shaft, strengthens the skin, counteracts eczema, itching, peeling skin, fragile coat, and hair loss. Panthenol gives natural colour and luster, adds volume, enhances the skin and coat quality, makes brushing easier, repairs damaged/worn coat and improves hair elasticity.
​
Glycerin
Glycerin is plant-derived. It is an emollient and humectant; it softens and moisturizes the skin by forming an oily layer on top that draws or traps water in/on the skin. It is used to treat many oily skin conditions, like acne and skin infections. It maximizes the healthiest hair possible.
Water, Dimethicone, Cyclomethicone, Glycerine, Conditioners, Panthenol, Hydrolyzed Keratin, Emulsifiers, Mild Preservative System, Caprylic Capric Glycerides, EDTA, Rosemary Leaf Extract, Fragrance.
Free from Potentially 
Harmful Ingredients
Wonder Spray Detangler contains No Alcohol, SLS (Sodium Lauryl Sulphate), Colorants, Parabens, Mineral Oil, Ethanolamines, GMOs (Genetically Modified Organisms), Detergents, Propylene Glycol. It i